Small Business Spotlight: Work From Home Pro
Posted by Ed Pluchar on Thursday, May 19, 2022 at 10:19 AM
By Ed Pluchar / May 19, 2022
Comment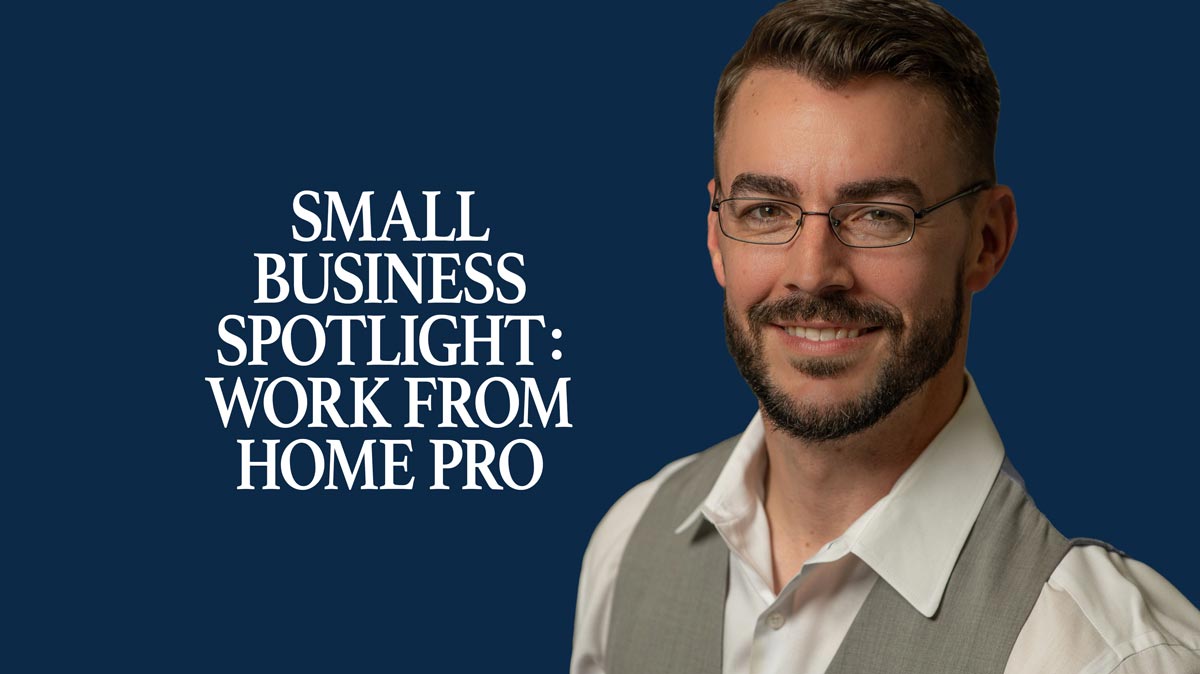 Having the ability to work from home is amazing. And in today's work environment, whether you work for a company or own your own, there are a lot of reasons that working from home makes life easier on both you and the company.
But what happens when your computer stops working, your printer stops printing, or you just can't seem to connect that monitor? That's where Work From Home Pro comes in. Work From Home Pro (workfromhomepro.net) focuses on the person who works from home who wants that

extra level of support. Most home offices are not perfect, but Work From Home Pro can help make yours perfect for you. Boosting productivity and efficiency, adding comfort and reliability, and making it more enjoyable to work from home are the corner stones on which Work From Home Pro helps customize and upgrade your home office or small business technology.
We got to sit down with Trevor Surges, the Founder and CEO of Work From Home Pro, and pick his brain about what they are doing to help clients overcome their home office woes. (Make sure you read to the end, where Trevor talks about promotional deals!)
What is the inspiration behind Work From Home Pro?
When everyone started working at home in March of 2020, I was bombarded with questions and requests for help with their home office equipment. I don't mean this in any negative way, but the average person who has worked at an office for their entire career truly seemed at a loss for how to work from home once forced to do so. On one hand this was a good thing. Work/Life balance is very important to be able to work optimally, and this gave so many the opportunity to make that balance better. But I've noticed that everyone has a different point at which they find this balance. For most, the commute to and from the office was where you flipped the switch and went from employee/co-worker to who you are at home. When this was removed, many people suddenly seemed to lose that black and white distinction and fell into a limbo of grey that blurred the lines between work life and home life. I saw this having some very devastating effects with co-workers, friends, and family. Everything from a sharp increase in stress, a loss of time management, productivity loss on both the work and home sides of life, depression, and even relationship issues. And in most of those cases, a key contributing factor was that the person was not able to separate work from home anymore once they started working from home regularly. It was too easy to let work outside of it's 9-5 cage and consume the free time that should be dedicated to you and your family.
That's where our ability to setup a home office comes in and is so critical in today's work from home world. We guide our clients how to setup their home office location, and what tools and hardware are available to make working at home better. In this case, better is allowing you to be more focused and productive while using your home office. That way, when you're supposed to be done for the day you can feel accomplished and not feel guilty about turning off the work employee side to go spend needed time with your family. Better is being more efficient so that you can utilize the lack of office life distractions and stay on task throughout your workday. Better is simple, easy, reliable equipment that helps you do your job instead of getting in the way of it. We just want to make working from home… better.
What makes you different from other technology support services out there?
In most cases, my clients and I have found that other services offer either too little or too much support for their needs. There are some really great retail-level support programs that have come a long way in the last couple of years. And while they offer great service regarding THIS product, or THAT software, most of their customer support team don't have the knowledge or training to see the whole picture of what the customer is utilizing it for, and with what other pieces of technology they are using it with. They also don't have the ability to come into your home, whether physically or virtually, to help you get setup. All of that is reflected in the price you pay for it. It's cheap and seems like it covers everything, when really, you're stuck with itemized product support seen in their own silos.
On the flip side, especially for those who are running a small business and need IT support, you've got a lot of great companies out there with top of the line, enterprise level support. But that also comes at a steeper price, and in many cases, you're going to be guided to hardware and software that is really beyond the scope of what you need.
We fall into a goldilocks zone for both those in need of home office help, as well as small business support. Just the right amount of support for what people need at the right price for them. We go over the whole picture of what you do, what you need to be able to do, and come up with a setup that suits your needs the best. We work with you to get you exactly where you need to be so that you can start working from home the way it is meant to happen. And when we are done, you'll be wondering how you were able to do your job before.
So how exactly do you help people with their home office or small business technology?
The adage "Time is Money" isn't utilized enough when applied to technology. All too often getting the right tools for the job are bypassed by just using what you have and trying to make it work. At a construction site, it's obvious you want to use a drill to drive in a screw instead of a screwdriver. It saves you time and effort, especially after having to drive in thousands of screws to get the job done. But a screwdriver technically can do it too, right? It's cheaper, so why doesn't everyone just use a screwdriver? Similarly, even though one might think using what is on hand might save you money, in the end it costs you more in time and effort than getting the new hardware that's right for the job would have.
Work From Home Pro starts with a client where all good support should, at the beginning. What do you do daily for work? What tasks and steps are you taking? What do you find yourself spending the most time on? What are you currently using to do those tasks? We take all that information and create a new hardware and/or software setup based on what will improve your current processes, as well as suggest new ways to complete your tasks if we can. We work within any guidelines or rules laid out by your company's IT Department (if applicable), and make sure that all new hardware/software will work with the components they provided, and you need to use.
We provide this at multiple levels of support, starting with our Work From Home – Enhanced service, all the way up to the Work From Home – Professional service. At all levels we provide you a list of suggestions for hardware, software, and services, and explain why and how they will help you. We can also provide you specific makes and models to make it easier for you to purchase them without worrying about getting the wrong items. But we also understand that not everyone is comfortable with setting their new equipment or software up after receiving it, so we also offer in-home setup assistance. If you are local, we can come to your home and set it up for you personally, making sure it all works for you right away. If you are not local, we offer remote setup assistance, including 2 hours of Facetime (or other video conferencing service) that allows us to walk you through step by step how to get your new home office ready to go.
If you own a small business and need technical support, we offer that as well. Whether it is for on-demand support, project support such as setting up a new employee workstation all the way to designing and implementing a new phone system, or even regular ongoing support and managed services for those who want to always know someone has got your back when it comes to IT services. Not all small businesses can afford to hire a full time IT person or department. That's why there is a Work From Home Pro service that covers what you need done at the price you need it to be at. Our small business support plans are designed to save you money compared to keeping an IT person on payroll. We can help you with planning and budgeting for your future IT projects as well, guiding you down the everchanging road of IT infrastructure. You won't be left wondering if and when you should upgrade or implement a new system or service. We will take the guesswork out of technology for you.
What if someone is still not sure if Work From Home Pro is right for them?
We offer a free introductory analysis to help those who are curious about gaining more productivity and efficiency with their current home office setup or small business technology, and how to upgrade and improve what they currently have. After talking with us, everyone will walk away with some new inspiration or piece of hardware, software, or service to improve their home office. If they choose to continue working with us, we can get very specific and help them along their way. If not, then we hope that they will suggest our service to others who need it and take advantage of our referral program. [More on that below!]
How can they reach out to you?
Visit our website at WorkFromHomePro.net. Here you can look over the services we offer, as well as contact us to learn more about them. We work with everyone as an individual, and we want to make sure we are getting you the service that is right for you and your situation. We are happy to tailor a service package to fit your needs. Please feel free to contact us at [email protected] or call us at +1 (630) 593 – 0075 to learn more.
Are you running any current promotions or deals?
Yes! From now until Labor Day (Sept. 5, 2022), we are having our "Summer of Setup." During the Summer of Setup, new clients will receive 20% off the cost of their first service. Current customers will still be able to enjoy 10% off. Mention the "Pluchar Group" and get an extra 5% off!
On top of that, we are launching our new Work From Home Pro Referral Program.
Join the WFHP Referral Team and get additional perks for referring others to us. These perks include entries to win giveaways and loot boxes, extra percentages off services for yourself, or even earn $CASH$ rewards. Who couldn't use a little extra cash in their pockets while supporting a local small business? Check out https://workfromhomepro.net/referral-program/ for more details.